Always the perfectionist, I'm originally from Detroit, Michigan but I was raised in Columbus, Ohio. My education was given from The Art Institu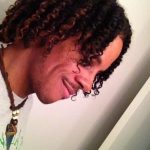 te of Pittsburgh , and there I earned my Bachelor of Science Degree in Media Arts & Animation.
Video games and Traditional Illustration will always be my first love, however Graphic Design and Advertising work have always made me happy as well. Somehow, they are able to take me to that place where inspiration and creativity meet to form the immaculate conception of a quality piece.
I do all types of digital media for logos, flyers, promotional/marketing materials, business cards, digital manipulations and yadda yadda yadda; but of course traditional illustrations and portraits are very close to my heart.
SKILL SETS

| | | |
| --- | --- | --- |
| Photoshop | Portraits | Illustrations |
| Character Design | Website Development/Maintenance | Logos |
| Flyers | Brochures | Business Cards |
Now that I have returned to my hometown, I'm continuing my artistic growth and development while I try to add to my life experience. I do this through diverse interactions with, and influences from, other sentient and brilliant individuals.
Please contribute 😉

"Your willingness to wrestle with your demons will cause your angels to sing. Use the pain as fuel, as a reminder of your strength." ~ August Wilson